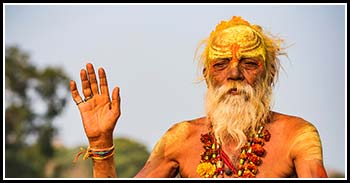 Feel the spirituality and friendliness of Tamil Nadu in a 9 days/8 nights tour

from 699 USD / 633 EUR per person (incl. hotel)
Tour highlights: Chennai, Mahabalipuram, Kanchipuram, Pondicherry, Auroville, Thanjavur, Madurai, Tiruchirappalli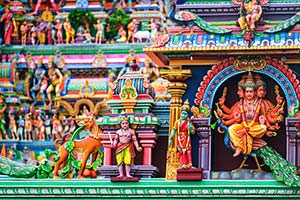 Day 1: From Chennai airport to Mahabalipuram (1.5 h driving)
Your driver will greet you upon arrival at Chennai Airport and accompany you to your private car. Then we will take you directly to your hotel in Mahabalipuram (also called Mamallapuram). After your check-in, your Indian driver will give you additional information about your itinerary and answer any questions you may have. According to your arrival time, you can start exploring Mahabalipuram. You may visit some of many cave temples, known for their rock-cut carvings and architecture which belongs to the 7th century of Pallava Period. Although all of them are beautifully carved, Mahishasuramardhini Mandapa, Krishna Cave Temple, Panchapandave Cave Temple and Varaha are the most enticing. If you prefer, you can enjoy the walk along the Mahabalipuram beach. Overnight in Mahabalipuram.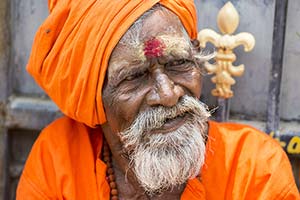 Day 2: Mahabalipuram sightseeing
Enjoy your breakfast at the hotel, and then, your driver will lead you to the discovery of Mahabalipuram, an extraordinary city, known for its bas-reliefs dating back to the VII-VIII centuries. This city is inscribed on the list of the heritage of the UNESCO and here, you will discover the most famous bas-reliefs: '' The descent of the Ganges or The penance of Arjuna ''portrayed in stone at the Pallava heritage site. A giant bas-relief filled with detailed carvings, including a family of elephants and monkeys. Visit the Shore Temple, the oldest structure in the area, build at 700 AD, located along the coast of the Bay of Bengal, and see the monolithic monuments of Five Ratha or known as Pancha Pandava Rathas. For lunch, you will enjoy the locals fresh fish and seafood that will delight your taste buds. For the rest of the day your driver will be happy to suggest places and restaurants for you to discover. Overnight in Mahabalipuram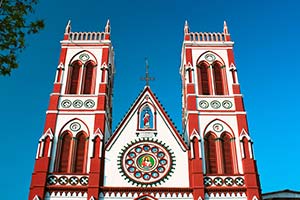 Day 3: From Mahabalipuram to Pondicherry (2 h driving)
In the morning, before heading to Pondicherry, you will stop to make a short visit to Kanchipuram (the golden city), one of the most important spiritual centres of Hinduism, and a major pilgrim destination. You will discover various temples dating back to the days of the Pallava kings. Back in the 4th-10th century, Pallava Kingdom was a centre of learning for all the major religions of South India. The city is also known as a major silk weaving center. After the sidetrip, your driver will continue your journey to Pondicherry, a French colony until 1954. Though small in geographical size, it was the largest French colony in India. You can walk in the historic district of Pondicherry (or rent a pedal cycle) where you will discover the Basilica of the Sacred Heart and the Cathedral of Our Lady of Immaculate Conception and also see the Botanical garden or Bharati park. Your driver will gladly make proposals for visits according to your wishes. Overnight in Pondicherry.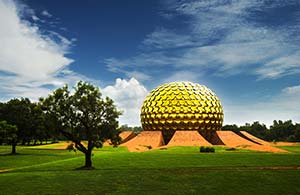 Day 4: Visit Pondicherry and Auroville
Today, your driver will be at your disposal to continue the discoveries of Pondicherry according to your preferences. Then you will leave for an excursion to Auroville, located about ten kilometers from Pondicherry. Auroville (city of the dawn, better known as '' the Mother '') is considered a universal city where everyone gathers to learn to live in peace independent of their beliefs or nationality. The city was inaugurated in 1968. In the center of the city are the famous Matrimandir (the gigantic symbol that represents a meditation room) and its gardens. In the evening, your driver will drive you back to Pondicherry. Overnight in Pondicherry.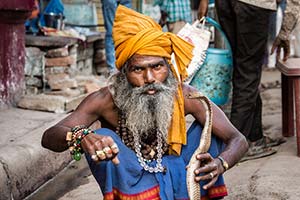 Day 5: From Pondicherry to Thanjavur (4 h driving)
Today your Indian driver will take you to Thanjavur (also called Tanjore). Tanjore is considered to be the granary and 'rice bowl' of Tamil Nadu, dominated by agriculture. This place is recognized for the great Brahadeeswara Temple, built by Rajaraja Chola I. Brahadeeswara Temple is one of the most magnificent pieces of South Indian temple architecture. A UNESCO World Heritage Site that is a must see. Also, a must visit is Thanjavur Palace & Saraswathi Mahal Library. The library is home to more than 30,000 ancient manuscripts mostly in Tamil and Sanskrit. Other places to see in Thanjavur are the Schwartz Church (built 200yrs ago), Siva Ganga garden, and Ragavendra temple. Overnight in Thanjavur.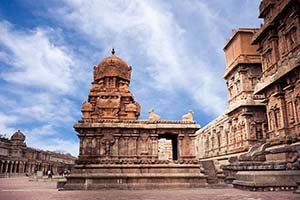 Day 6: Thanjavur sightseeing
In the morning, your driver will pick you up at your hotel and we will organize an excursion to the city of Trichy (Tiruchirapally) where you can discover the famous Rockfort Temple. This complex with its fortress and temples is considered one of the oldest formations in the world. Later, you will visit Sri Ranganathaswamy Here, non-Hindus can only go up to the sixth wall but not inside the gold topped sanctum sanctorum. It is considered the largest Hindu temple in the world still in operation. After returning to Thanjavur, your driver will be at your disposal and may make suggested visits according to your interests. Free at your own leisure in the evening. Overnight in Thanjavur.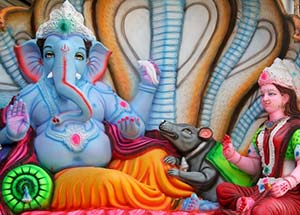 Day 7: From Thanjavur to Madurai (4 h driving)
Today your driver will take you to Madurai, the oldest and holiest city in Tamil Nadu. It is also one of India's most outstanding Hindu pilgrimage centres. Once there, you will discover the Meenakshi Amman Temple, the masterpiece of Dravidian architecture and one of the most visited holy places in India. Many pilgrims, mostly the men in black or orange sarongs, are found in the main temple itself in the prakara. Also, snake shrines and an assortment of offices and classrooms of religious foundations are found here. After your temple visit, you may see the Ghandi Memorial Museum, the local grand bazaar and many other sights your driver would be happy suggest to you. Overnight in Madurai.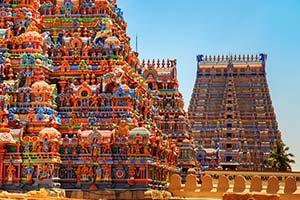 Day 8: From Madurai to Tiruchirappalli
This morning, you will head for Thiruchirappalli (known as Trichy). The city is best known for its Srirangam Island and Sri Ranganathaswamy Temple, one of the largest religious complexes in the world. One of the main attractions of the temple is its thousand pillar hall. The 16th century Rock Fort will also be one of the highlights of your stay in Thiruchirappalli. The latter dominates the whole city and therefore offers a breathtaking view of the whole of Trichy. (Please note that the temple halfway to the Rock Fort is not accessible to foreign travelers). Overnight in Thiruchirappalli.


Day 9: From Tiruchirappalli to Chennai Airport
Today, you can enjoy your breakfast at the hotel, then, following the time of your return flight, your driver will take you directly to Chennai airport for your departure. If time permits, your driver will of course be at your disposal for additional visits or pre-departure shopping.



Prices per person:
Price per Person
1 Person
2 Persons
3 Persons
Accommodation type
USD
EUR
USD
EUR
USD
EUR
Comfort Accommodation

$ 1578

1328 €

$ 950

799 €

$ 760 


639 €

Luxury Accommodation

$ 2196

1848 €

$ 1306

1099 €

$ 1045


879 €

Driver Only (no accommodation)

$ 1033

869 €

$ 516

435 €

$ 344

290 €
Pricing for 3 persons based on a triple room.
Pricing for more than 3 persons upon request based on your requirements (number of rooms/cars). 


Your tour includes:
- All arrival, departure, tours as per above itinerary in air conditioned car with English speaking Indian driver including his living expenses
- All applicable hotel & transport taxes (tolls, road taxes, state taxes, fuel)
- 8 nights accommodation in hotels in a double room
- Daily buffet breakfast
- Your driver's accommodation and meals
- Indian Government services tax
- Passenger and car insurance


Your tour does not include:
- Any meals or drinks (except breakfast). Your driver can recommend safe food restaurants on the way or in the cities
- Expenses of personal nature such as tips, telephone calls, laundry, liquor ...
- Entrance fees during sightseeing
- Any International airfare to India
- Any other item not specified